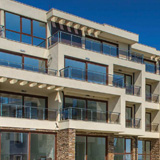 High Performance Gypsum: Protect Against Mold, Moisture, and Exposure

About the Sponsor
National Gypsum Company, headquartered in Charlotte, NC, is the exclusive service provider of reliable, high-performance products manufactured by its affiliate companies and marketed under the Gold Bond®, ProForm® and PermaBASE® brands. The National Gypsum name has been synonymous with high-quality, innovative products and exceptional customer service since 1925. The strategic network of Gold Bond, ProForm and PermaBASE manufacturing facilities located throughout North America allows us to provide the best in customer service to keep your fast-paced projects moving forward. Whether you want innovative fire-resistant assemblies, enhanced acoustical performance or require additional abrasion or impact resistance, Gold Bond products deliver with a level of excellence.
Course questions/comments
704-365-7931
This course focuses on gypsum products manufactured with fiberglass facing which replaces the paper facing typically used on gypsum board. These products are regarded as "high performance" due to their superior weather resistance, superior fire resistance, and superior mold resistance. Five common product types include panels manufactured for 1.) exterior wall sheathing, 2.) shaftliner for cavity walls and area separation walls 3.) potential interior high-moisture conditions, 4.) tile backer boards for wet areas, and 5.) roof coverboards for low slope roof applications. The presentation outlines the high-performance characteristics of fiberglass faced gypsum products. The basic applications, attributes, advantages, and limitations of each of the five common product types are described. By understanding the performance and features of these fiberglass faced gypsum products, the specifications and drawing details can be properly prepared for successful use in buildings.
Learning Objectives:
Review gypsum board manufacturing process including the use of gypsum rock and byproduct gypsum.
Outline the fire-resistant characteristics of gypsum board and review different core types.
Provide an overview of the high-performance characteristics of fiberglass faced gypsum boards related to moisture, mold, fire-resistance, durability and exposure.
Highlight the key standards and attributes to include in a specification for high-performance products and identify the appropriate locations for these products.
Design Category (CSI Division):