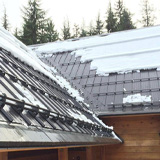 Let It Snow: Modern Snow Retention Systems

About the Sponsor
TRA Snow and Sun was founded by Terry Anderson, who helped establish the concept of cold roof systems in the US. TRA Snow and Sun's products help provide you with safety from the dangers and expense of sliding snow and ice, effective and cost effective mounting systems for solar energy collectors, and flexible roof flashings which have gained international recognition. For over two decades, our products have been selected by hundreds of satisfied builders and property owners.
Course questions/comments
(866)-963-6511
Heavy snow, while perfect for skiing and snowball fights, is less than ideal when it glaciates and moves on roofs. Despite the many damages that snow and ice moving on roofs can cause to a building and its occupants, there are currently no codes or standards for snow retention systems in the United States or Canada. Join us in this one-hour course as we discuss various solutions for snow and ice moving on roofs, including design practices and roof types. Design professionals will learn how to ensure modern snow retention systems that utilize brackets and fences are properly engineered to efficiently and safely retain snow in order to protect a building, its occupants, and its surroundings.
Learning Objectives:
Recognize common hazards that result from heavy snow moving on roofs, especially those that present danger to occupants and buildings
Compare and contrast solutions for heavy snow and ice moving on roofs, including design practices and roof types, based on their durability, safety, and efficiency
Identify modern snow retention solutions, such as snow brackets and snow fences, that efficiently and safely retain snow so that occupants can safely access and use a building
List engineering factors that need to be considered to ensure snow retention devices are properly engineered in order to effectively solve the many potential problems of heavy snow moving on roofs
Design Category (CSI Division):
(07) Thermal and Moisture Protection