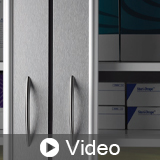 Modern Storage Solutions for Healthcare

About the Sponsor
InnerSpace® specializes in stationary and mobile medical storage solutions for all areas of your healthcare facility, from cath labs and radiology to central supply and pharmacy. Our product offering includes a mobile medical carts, stationary medical cabinets, and open storage that efficiently organize supplies and equipment and support staff and facility effectiveness. We offer complimentary storage analysis and CAD/Revit design services.
In this one-hour course, we will explore storage issues that healthcare facilities face due to the demands of ever-changing technological advances as well as a lack of usable space. When healthcare facilities do not have easy access to necessary supplies and equipment, patient treatment may suffer as well as cause added stress to staff members. Fortunately, there are flexible options for design professionals to consider as they plan for the current needs of the facility as well as anticipate the future needs. We will examine mobile, stationary, and preconfigured storage alternatives as well as various accessories to solve both general and specialty storage common issues. In addition, we will discuss design trends to determine ways that modern storage units may contribute to a healthier, safer, and more efficient environment that has positive impacts on people.
Learning Objectives:
Describe challenges that healthcare professionals face regarding the safe storage of supplies and equipment and explain why the use of more effective storage solutions are healthier for both patients and staff.
Explore mobile, stationary, and preconfigured storage devices to determine the advantages of each type of storage system in an ever-evolving industry that requires flexible functionality.
Explain how the material composition of storage systems can contribute to a cleaner, safer environment for staff and patients.
Analyze design trends in healthcare facilities to understand why specifying storage systems that are durable, flexible, sanitary, and easy to maintain is so critical to the well-being of others.
Design Category (CSI Division):