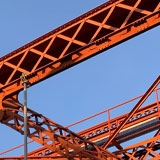 Rust Prevention 101

About the Sponsor
Solving challenges is the very foundation of who we are. after all, in the beginning, sea captain Robert Fergusson didn't particularly care about paint. He just wanted to keep his ship intact. That's why, when he noticed that an accidental splash of fish oil had stopped the relentless spread of corrosion on his rusty metal deck, he immediately recognized it for what it was: A valuable solution. The same passion that drove the Captain to spend his next few years creating the world's first rust-preventative paint still drives us today. When we see a problem, we work diligently until we've perfected a solution- which has led to some of the most cutting-edge, durable and innovative products in the industry. If you've got a surface you need to protect or a look you want to transform, you've come to the right place. We have a coating for every challenge. Welcome to Rust-Oleum, home of trusted quality-and powerful solutions-since 1921.
During this one-hour presentation, we explore the rusting process and how it relates to structural integrity, life-cycle, and safety. We review rust prevention strategies, surface, preparation, and specific coating types.
Learning Objectives:
Define rust and explain how and why the rusting process occurs by chemical reaction with its environment
Review various types of rust and how they relate to structural integrity, life-cycle, and safety of assets
Discuss basic surface preparation needed for the prevention of rust on new steel and the treatment of rust on existing steel
Identify the different coatings that comprise a coating system and explain the role of each coating regarding VOCs, sustainability, and life-cycle.
Design Category (CSI Division):
(07) Thermal and Moisture Protection