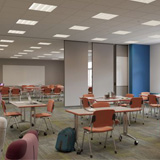 The Science of Sound: Operable Walls and Beyond

About the Sponsor
As an industry leader in the moveable wall concept, Modernfold delivers the highest-quality, custom wall solutions from start to finish. Our operable partitions and architecturally-striking glass wall systems wow customers and provide them with endless possibilities for their environments. Where others see only space, Modernfold sees possibilities.
Course questions/comments
(317)468-6738
Acoustical control is a critical factor in every environment. Utilizing the appropriate operable partition to address acoustical concerns and space flexibility can simultaneously solve many problems. Join us for this one-hour course as we discuss acoustics, operable walls, and how the two together in conjunction with complementing architectural elements can produce excellent acoustical control for any space.
Learning Objectives:
Understand the science of sound and acoustics.
Comprehend applicable lab and field tests to measure performance of sound transmission and absorption.
Analyze additional architectural approaches that will compliment an operable wall and enhance the full acoustical design of your build.
Select an operable wall system best suited for your project based on your objectives and space solutions desired.
Design Category (CSI Division):
(08) Doors, Windows and Openings