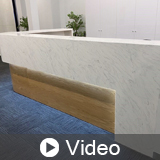 The Selection of Surfaces: Strategic Support for Infection Prevention

About the Sponsor
Founded in 1976, Meganite is a private, family-owned business founded by a chemical engineer. He had a relentless focus on R&D to provide quality products at the best value. Starting with manufacturing composite materials like resins, gel coats and color paste, we eventually evolved to solid surfaces which is our core focus. Today, as a US-based company, we build off our long history and expertise to continue to innovate on acrylic solid surfaces. Our managing philosophy is to partner for the long-term, and grow with our distributors and customers. As a solid partner, some of Meganite's distributor-partnerships have lasted decades.
Course questions/comments
+1.949.280.1312
This one-hour course examines the considerations needed during the design phase when selecting surface materials in order to help mitigate bacteria and provide easier cleanability within healthcare facilities. A deep look into microbes provides insight into the challenges and dangers of poorly selected surfaces. Various questions are brought to light to help gain understanding and think strategically when selecting surface materials, as well as looking at various areas of high risk. The importance of reviewing the care and maintenance of a product is highlighted as a way to deliver a healing environment and support infection prevention requirements. This course reminds design professionals that their surface choices can help support reduction of bioburden and create a healthier facility.
Learning Objectives:
Describe the differences between Antibiotic Resistance and Antimicrobial Resistance
Engage in a high-level discussion about microbes and how surfaces support the acquisition and transmission of deadly pathogens
Introduce design strategies using surfaces to mitigate HAIs
Empower healthcare professionals to ask questions and gather data before selecting surfaces and products to support infection prevention guidelines
Design Category (CSI Division):
(06) Wood, Plastics and Composites