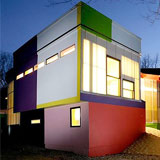 Spray-in-Place Polyurethane Insulation Systems

About the Sponsor
Organized in 1964 by research chemist Dr. H.W. Bradley and Charlotte-based Barnhardt Manufacturing Company, NCFI Polyurethanes quickly became a leader in the manufacturing of flexible polyurethane foam for the bedding and furniture industries. NCFI offers a complete line of flexible foams for furniture seating, transportation seating, bedding, carpet underlay, and packaging. Also manufactured in Mount Airy are polyurethane foam chemical systems for spray-in-place insulating foam commonly referred to as SPF insulation, roofing, marine floatation, packaging, specialty molding, and many other uses.
Course questions/comments
800-346-8229
In this one-hour course the history of SPF will be discussed. The physical properties of SPF insulation will be examined as well as the advantages of using SPF in the built environment. Typical applications of both open-cell and closed-cell SPF will be reviewed.
Learning Objectives:
Describe Spray Polyurethane Foam (SPF) insulation and how it benefits conditioned spaces and occupant health
Explain the development of SPF insulation to control temperature and promote a healthy indoor environment
Identify the physical properties of SPF insulation, including air and moisture impermeability
Explain the advantages of SPF insulation and describe examples of open cell and closed cell SPF applications
Design Category (CSI Division):
(07) Thermal and Moisture Protection