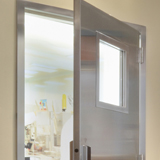 Steel Doors & Frames in Healthcare Facilities

About the Sponsor
Steel Door Institute (SDI) was established in 1954 as a non-profit business association that develops standards for steel doors and frames. These standards are available free of charge so architects can ensure quality and consistency of steel doors and frames. SDI members are the only manufacturers that have been audited to ensure they meet our standards.
Course questions/comments
(949)422-2911
This course covers the benefits and attributes of a variety of hollow metal steel doors and frames as they relate to the healthcare industry. Learn about the architectural design model process for these facilities and the spaces where steel doors may be required. Discover why steel doors and frames are a superior choice for medical facilities as well as details on selecting the right steel door and frame. Learn about the different steel door openings and frames that are typically found in healthcare facilities. Also included are details on the various safety codes affecting the individual facilities and types of openings such as stainless steel, acoustic, thermal, lead lined, fire resistant, and more.
Learning Objectives:
Describe the primary types of specialty steel doors and frames covered in this course as well as their benefits and applications
Explain the architectural process for healthcare building design as it relates to steel doors and frames
Define facility guidelines for different healthcare door types, including ADA (Americans with Disabilities Act) accessible design
Identify the types of healthcare doors & frames that provide safety for doctors, nurses, patients, and administrative personnel
Understand applicable safety codes affecting healthcare openings
Design Category (CSI Division):
(08) Doors, Windows and Openings