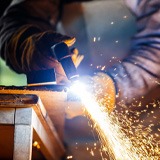 Steel Doors and Frames 101 - Update

About the Sponsor
Steel Door Institute (SDI) was established in 1954 as a non-profit business association that develops standards for steel doors and frames. These standards are available free of charge so architects can ensure quality and consistency of steel doors and frames. SDI members are the only manufacturers that have been audited to ensure they meet our standards.
Course questions/comments
(949)422-2911
This course provides general information about steel doors such as nomenclature, fire ratings, cores, and performance levels. This includes how SDI standards can assist with fire door selection. We will also review frame nomenclature, types of frames, anchoring, and elevations.
The focus will also be on the physical performance of doors in relation to fires, windstorms, blasts, bullets, and acoustics. Footage of fire and hurricane tests will be presented. In addition, we will look at the recyclability and LEED credits provided by steel doors and frames.
Learning Objectives:
Describe the various components of steel doors and frames
Explain the basics of fire rated openings and how to avoid negating a rating
Discuss the performance levels of doors, and how to avoid over- or under-specifying doors' gauges
Describe the importance of hinge and strike locations, including the importance of proper reinforcement
List the types of specialty doors that are available and the general performance capabilities of each
Design Category (CSI Division):
(08) Doors, Windows and Openings