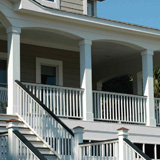 Structural Characteristics of Laminated Timber Columns

About the Sponsor
Culpeper Wood Preservers is one of the largest producers of pressure treated lumber in the United States. A leading manufacturer of pressure treated products for the residential, commercial, industrial and marine markets that employs more than 350 people. Culpeper Wood Preservers' brand name products are sold exclusively through independent lumber dealers throughout the Mid-Atlantic, Northeast, Mid-West and South. They operate 10 plants strategically located in Virginia, Maryland, North Carolina, South Carolina and Indiana.
Course questions/comments
(803)534-7467
Gain insight into the makeup and characteristics of laminated timber columns and compare to other alternatives. Understand the importance of materials selection, production process, and testing.
Learning Objectives:
Explain the Construction of the Laminated Timber Column
Describe the importance of proper & sustainable fiber sourcing, pressure treating to ground contact, Kiln drying and a structural adhesive
Identify the Structural Advantages of Built-up Timber Columns
Identify the job site advantages of Laminated Columns
Design Category (CSI Division):
(06) Wood, Plastics and Composites