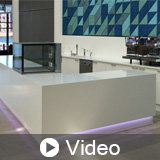 The Surface of the Future

About the Sponsor
Founded in 1976, Meganite is a private, family-owned business founded by a chemical engineer. He had a relentless focus on R&D to provide quality products at the best value. Starting with manufacturing composite materials like resins, gel coats and color paste, we eventually evolved to solid surfaces which is our core focus. Today, as a US-based company, we build off our long history and expertise to continue to innovate on acrylic solid surfaces. Our managing philosophy is to partner for the long-term, and grow with our distributors and customers. As a solid partner, some of Meganite's distributor-partnerships have lasted decades.
Course questions/comments
+1.949.280.1312
This one-hour course examines the use of solid surfaces to help design professionals realize the versatility this modern, sleek product now offers. Applications of trend-setting solid surfaces are explored in a variety of applications including healthcare, commercial, retail, and educational industries. A comparison of other commonly used products is provided to re-affirm the varied uses of solid surfaces in a multitude of applications. These applications reveal the importance of low maintenance, durability and sustainability. As well, these solid surfaces have capabilities for flexible fabrication akin to cut wood without the hygienic worry. The course reminds design professionals that there is no need to sacrifice innovative designs when using a solid surface in any area for any user.
Learning Objectives:
Compare and contrast solid surfaces to other commonly used products and identify the functional benefits of using solid surfaces that contribute to a cleaner space
Explain how the process of thermoforming allows designers to products products of various shapes and sizes to meet project expectations
Analyze how solid surfaces may be applied to diverse projects that demand quality, sustainability, and longevity to promote positive well-being for people and property
Explore innovative case studies to realize that it is not necessary to sacrifice the aesthetics of a space when creating a safe, hygienic, low-maintenance environment
Design Category (CSI Division):
(06) Wood, Plastics and Composites