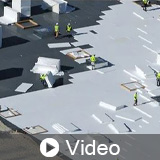 Understanding the Advantages of Rigid Insulation

About the Sponsor
Beginning in the early 80s, the Atlas commercial polyiso division began to fill the need for a growing foam insulation demand from the single-ply roofing industry. Instead of entering into membrane manufacturing, Atlas has remained the sole provider of polyiso roof insulation without a membrane system. This autonomy has given Atlas the flexibility to work with many industry-leading manufacturers of membranes, promoting wide-ranging advancements in rigid board insulation technology and performance. Atlas offers a full line of polyiso insulation board, including tapered and nailable.
Course questions/comments
(800) 388-6134
Rigid insulations are available in many product and system configurations offering optimum performance for all types of building applications. In this one-hour course, various rigid insulation products will be discussed with an emphasis on molded polystyrene (EPS) and their specifications. Environmental factors and product comparisons will be provided. Physical properties and field performance will be examined, including a review of the factors that affect R-value.
Learning Objectives:
Define types of rigid insulations used in construction
Identify the environmental impact of rigid insulations
Describe how age, temperature, and moisture affect R-value
Explain the appropriate specifications for insulation
Design Category (CSI Division):
(07) Thermal and Moisture Protection