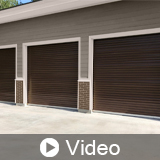 Understanding Wind Load Fundamentals

About the Sponsor
For more than 30 years, ASTA AMERICA, has provided high-quality products with unparalleled service to the commercial industrial markets. We started as a small, family business back in 1990, and we've grown quite a bit over the past three decades. Today, we have two state-of the-art production facilities in Georgia and Texas and offer a full-line of rolling steel and commercial roll-up and slat doors. Though we continue to grow and innovate to meet customer demands, there are somethings we'll never change. We continue to build on the heritage and tradition of treating our customers like family and providing top-performing, high-quality products without hassle. As our product offering and the markets we service continues to expand, our family-run values remain unchanged.
Course questions/comments
800-423-0659
There are many variables that need to be considered to specify the correct rolling door in a wind load application. Join us in this one-hour course as we discuss wind load as it pertains to rolling doors and the safety of installers and occupants. Design professionals will learn the details required to specify the correct door for each application based on environment and regulations, as well as be able to calculate the required design pressure (±PSF).
Learning Objectives:
Define wind load and discuss wind load requirements that are used to safely install and operate rolling doors
Identify environmental differences that affect wind load as it relates to rolling doors, as well as how building code and regulating bodies work to ensure building safety
Develop appropriate specifications for rolling doors based on a project's environment and wind load requirements to minimize safety risks to both installers and future occupants
Calculate the correct design pressure (±psf) for various projects and building needs using a formula that incorporates IBC and ASCE-7 requirements 
Design Category (CSI Division):
(08) Doors, Windows and Openings