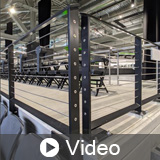 Using Cable Railings in Public Buildings and Structures: A Demonstration of Strength & Beauty

About the Sponsor
In 1998, The Cable Connection introduced the innovative Ultra-tec® line of stainless steel tensioners and mounting hardware designed especially for cable railings. The Ultra-tec® product line met with immediate success and has become the preeminent line of its type for use in cable railings. A large inventory of Ultra-tec® cable railing products in maintained in the factory warehouse in Nevada, by the nationwide distributor, The Wagner Company in Milwaukee, Wisconsin, and stocking distributors throughout the United States and in Mexico City.
In any building, individuals come in contact with many different building materials — concrete, wood, steel, stone, and brick — all designed and engineered for their strength, durability and functionality.
Architects and designers choose these materials based on performance, code compliance, cost, and beauty for a balanced and well-designed exterior and interior space.
Stainless steel cables, fittings, and hardware blend strength with beauty and offer open sightlines along with safety elements. They are also precision engineered for easy installation and design flexibility making it a smart material and product choice.
This presentation will provide a valuable understanding of what stainless steel cables and hardware are. Ideas on how to use them effectively in new and retrofit building and public structures, pedestrian bridges, stadiums, multifamily, golf courses, schools, office buildings, and more — using case study proof of performance.
We will highlight the use of stainless-steel cables and hardware, the advantages and benefits to the architect and specifier in their building designs.
Learning Objectives:
Define stainless steel cable, fittings, and hardware.
Implement a code-compliant cable design for the built environment.
Recognize, using present-day case studies, the innovative use of stainless-steel cable, fittings, and hardware and the impact on occupant health and well being and balanced aesthetic.
Explain the features of stainless-steel cable, fittings, and hardware and its use to ensure the safety of occupants.
Design Category (CSI Division):