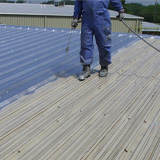 We've Got You Covered: Fluid-Applied Roofing Systems

About the Sponsor
Solving challenges is the very foundation of who we are. after all, in the beginning, sea captain Robert Fergusson didn't particularly care about paint. He just wanted to keep his ship intact. That's why, when he noticed that an accidental splash of fish oil had stopped the relentless spread of corrosion on his rusty metal deck, he immediately recognized it for what it was: A valuable solution. The same passion that drove the Captain to spend his next few years creating the world's first rust-preventative paint still drives us today. When we see a problem, we work diligently until we've perfected a solution- which has led to some of the most cutting-edge, durable and innovative products in the industry. If you've got a surface you need to protect or a look you want to transform, you've come to the right place. We have a coating for every challenge. Welcome to Rust-Oleum, home of trusted quality-and powerful solutions-since 1921.
In this one-hour course, the design professional will be exposed to the impact of roof deterioration throughout the US, and they will have an opportunity to explore a more cost-effective solution that can be used immediately to give new life to aging roofs in an effort to avoid spending millions of dollars replacing them as well as be used in new construction projects to increase sustainability and longevity of roofs. New advances in fluid-applied roofing systems will be discussed to help professionals be better informed about its benefits as well as remove common misconceptions about the products. Emphasis will be placed on the ways that fluid-applied roofing systems can positively contribute to the environment by virtually eliminating the need to remove an existing roof from buildings only to be moved to landfills. Additionally, the participant will determine other eco-friendly attributes, including VOC compliant products that contribute to LEED certification, the removal of the use of flame and torches, and the reduction of urban heat island effects as well as lowering energy costs. The various types of fluid-applied systems will also be discussed to help participants realize roofing defects that may addressed by the products when they are installed correctly. An analysis of market trends in various geographic areas will be presented so that design professionals can see the need for an efficient solution that will seal the building environment from moisture, rust, and corrosion in order to ultimately protect the health, safety, and welfare of building inhabitants.
Learning Objectives:
Identify the characteristics of fluid-applied roofing systems as well as refute common misconceptions about them in order to determine how quality fluid-applied roofing systems can have a positive effect on our world.
Discuss the advantages of using cost-effective fluid-applied roofing systems to eliminate moisture intrusion, seal the building envelope from rust and corrosion, and better protect the building and its inhabitants.
Explain the various types of fluid-applied systems and the ways they may be rapidly installed to ensure the longevity and sustainability of the building envelope.
Analyze current market trends to better understand the scope of roof deterioration on buildings and the increasing need for an effective solution that will result in savings to both the environment and to the occupants of buildings.
Design Category (CSI Division):
(07) Thermal and Moisture Protection