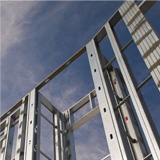 Why Build with Steel: Benefits of Cold-Formed Steel Framing

About the Sponsor
As ClarkDietrich, we are now truly able to answer the challenges of any project, regardless of size or complexity. With a complete lineup of innovative products, plus technical support services and smart tools for design and specification, we're forging a new future for steel framing.
Course questions/comments
(330)974-0835
This course will educate the AEC team on the advantages of utilizing cold- formed steel framing in the construction of mid-rise structures. It discusses reasons for using cold-formed steel framing in the structural framing of buildings, the preferred method of construction to frame buildings, as well as the advantages realized by the members of the Owner/Architect/Contractor team.
Learning Objectives:
How Panelized and Stick Built methods of construction can save you money and time, and help to prevent injury on the job site.
Understand how installation of the Joist and Rim Track floor systems are designed to "ready the floor for the trades."
Discover how material choice, insurance premiums and maintenance are some of the things to consider when choosing CFS over wood.
Recognize that speed and cost savings is an advantage for the Owner; design flexibility and LEED Certification is an advantage for the Architect; and Contractors benefit from panelization and the consistent quality of CFS.
Design Category (CSI Division):