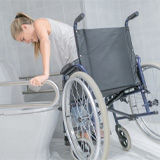 Accessibility in Toilet Room Design

About the Provider
Only ASI Group designs, engineers, and manufactures fully integrated washroom accessories, partitions, lockers, and visual display products from one source. The ASI Group is known for innovative products, speed to market, and the widest offering of materials and products in the industry.
Course questions/comments
(914) 476-9000
Learning Objectives:
Discuss the need for universal design, the seven universal design principles, and the role of the ADA in the development of accessibility guidelines and standards.
Explain ADA regulations surrounding toilet room access, use, maneuverability, and safety and how they ensure a satisfactory experience for users of all abilities.
Explain ADA regulations for toilet compartments, lavatories, and accessories that support ease of use and the welfare and safety of all users.
Identify the conflicting accessible design requirements between the 2010 ADA Standards and ICC/ANSI A117.1-2017 concerning clear floor space, grab bars, and dispensers.