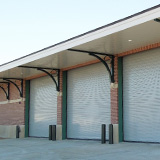 Ready to Roll: An Introduction to Rolling Steel Doors

About the Provider
For more than 30 years, ASTA AMERICA, has provided high-quality products with unparalleled service to the commercial industrial markets. We started as a small, family business back in 1990, and we've grown quite a bit over the past three decades. Today, we have two state-of the-art production facilities in Georgia and Texas and offer a full-line of rolling steel and commercial roll-up and slat doors. Though we continue to grow and innovate to meet customer demands, there are somethings we'll never change. We continue to build on the heritage and tradition of treating our customers like family and providing top-performing, high-quality products without hassle. As our product offering and the markets we service continues to expand, our family-run values remain unchanged.
Learning Objectives:
Compare different options for overhead products—including rolling steel, sectional, and sheet doors—for safety, performance, and cost effectiveness.
Describe the components of rolling steel doors, especially their customization, efficiency, and ability to protect assets and occupants from environmental hazards.
Evaluate different rolling steel door product offerings and determine which would be the best option for specific projects, considering project needs for insulation, weatherproofing, and/or fire-rated doors.
Illustrate an assortment of uses for rolling steel door products by analyzing visuals of existing applications including education, healthcare, industrial, etc.
Design Category:
(08) Doors, Windows and Openings