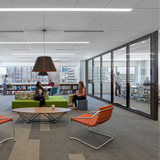 Shattering Expectations: Glass Operable Walls

About the Provider
As an industry leader in the moveable wall concept, Modernfold delivers the highest-quality, custom wall solutions from start to finish. Our operable partitions and architecturally-striking glass wall systems wow customers and provide them with endless possibilities for their environments. Where others see only space, Modernfold sees possibilities.
Learning Objectives:
Understand the end-user benefits gained with glass wall systems.
Compare and contrast glass operable wall systems.
Comprehend the impact of glass operable wall systems on LEED category credits.
Illustrate how glass operable wall systems can be used in a variety of environments to meet the diverse needs of different markets.
Design Category:
(08) Doors, Windows and Openings