Dale Pranga & Justin Ebert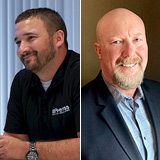 Dale Pranga – Architectural Segment Key Account Manager – AkzoNobel Powder Coatings
Dale Pranga is the Architectural Segment Key Account Manager for AkzoNobel Powder Coatings where he coordinates efforts to lead growth in this very dynamic market. AkzoNobel is the leading global supplier of Architectural Powder Coatings that delivers innovative solutions with their Interpon® D Series technology and world class resources. Dale Pranga has worked in the Coatings Industry for over 30 years providing leadership in Powder, Liquid, and Electrocoat technologies. He has held roles throughout North America and Global Key Account Management positions focusing on growth industries in several key markets. Dale Pranga holds a Bachelor's degree in Corporate Communications from Northern Illinois University.
Justin Ebert – National Business Director – Peerless Products, Inc.
Justin is the National Business Director for Peerless Products and is responsible for its existing and new business development. Peerless Products is an aluminum window and door manufacture that delivers Best in Class aluminum façade solutions in the construction industry. Justin works with a network of management individuals responsible for promoting the Peerless brand, developing new business relationships that support its growth and expansion, the execution and support of all business relationships, and overall company market exposure. Peerless works closely with design teams and clients to provide the best solutions in new construction and retrofit applications with high-performing, pre-glazed aluminum solutions in a wide range of applications across the United States.