Joe Quick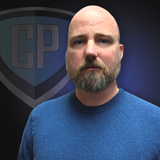 Joe Quick is a Visionary and Innovator with a passion for Helping Contractors Grow Incredible Businesses. He sits as Chairman and CEO of Incredible Products, LLC, the parent company to Industry brands such as The Concrete Protector, Warrior Equipment, Scientific Concrete Polishing, & Sanitred.
Joe started contracting in the Decorative Concrete Industry over 20 years ago and in 2008 developed The Concrete Protector brand.
Uncommon to many Decorative Concrete Product Manufacturers, He has over 20 years of experience managing and installing fluid-applied resinous flooring and concrete polishing projects.
Joe has been a featured artisan at the World of Concrete, and many of his projects, as well as his customer's projects, have been displayed in Industry trade magazines. Winning The World of Concrete's Most Innovative Product award, five years in a row, with six different innovations, he has earned a reputation always to have something new and interesting that will make contractors' lives easier or make them more money.
Joe has used his decades of industry experience to develop and simplify products and solutions for the many issues contracting companies battle to stay in business.
His companies continue to provide free training and technical advice to contractors for the expert installation of polished concrete and resinous floors. At the same time, Joe has committed himself to ongoing research and development for innovative solutions to any problems that are common to contractors' business.
Since 2016 Joe has studied the art of business development and simplified a proven process to create systems that run the business while hiring like-minded people to run those systems. He teaches these practices to his customers, at no charge, helping them to become profitable, reaching their goals, and live what he calls the EOS Life.
Doing What you Love,
With the People you Love,
Making a difference,
Being compensated fairly,
With time to pursue other passions in life.