Naga Thiyagarajan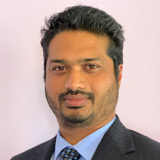 As the Director of Engineering for Mars Air Systems, Naga Thiyagarajan is a leading national expert in air movement technology. He has extensive academic and working knowledge designing air curtains and proving their effectiveness using both CFD modeling and physical tests. For Mars clients he is particularly adept at the real-world application of air curtains and has become known for his acumen enhancing their performance and addressing challenges in foodservice, HVACR, industrial settings, high-tech environments, healthcare, education, cold storage, and transportation hub environments.
Naga was the engineering lead behind the advancements to air curtain performance Mars undertook which produced products with improved flow characteristics and a lowered sound signature. His specialization designing air curtain controllers led to a patent for an intelligent climate control system. He also played a key leadership role when Mars produced a technologically advanced Clean Air Series that is now recognized for tackling the need for improved indoor air quality.
Naga has led dozens of learning sessions and worked closely with architects, engineers, sales teams, contractors, installers, and electricians. In addition to a master's degree in mechanical engineering from Wright State University at Dayton, Ohio, Naga has been involved in air movement technology with other products and applications over his 25-year career.