Tom Schroeder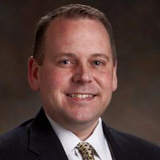 Southeast Regional Sales Manager, Eemax, Inc.
Tom's plumbing career started at the age of 15 in Indianapolis, Indiana, following a backhoe helping to install water and sewer services.
In the 35 years since, Tom's plumbing journey has led him out of the ditch and into a career as a journeyman plumber for a mechanical contractor. From there he shifted to sales with a wholesale distributor, to a manufacturers' rep, and to today as a regional sales manager in the Southeastern United States with a region covering 9 states. Tom works closely with manufacturers' representatives who call on engineers, code officials, plumbers, and wholesalers to drive awareness and sales of tankless electric water heating products through education and product management.
Tom earned his bachelor's degree from Ball State University and lives in Yukon, Oklahoma, with his wife Amy, daughter Ella, and son Paul. As a self-professed gearhead, if you should look to find Tom outside of his kid's athletics, he is in the garage.