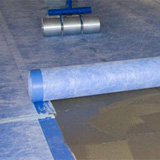 The 7 Deadly Sins of Waterproofing

About the Sponsor
Founded in 1946, Noble Company manufactures premium-quality, innovative products for the Tile, Plumbing, Heating and Cooling, and Fire Sprinkler Industries. Noble Company product applications include waterproofing, crack prevention, and sound reduction under tile flooring. Noble Company is an American-based company, manufacturing products in Michigan and Louisiana.
Monday, December 2, 2019 - 12:00pm to 1:00pm EST
This briskly-paced presentation will touch on some of the most common (and frequent) reasons why waterpoofing for ceramic tile and stone can go wrong, as well as offering practical "real Life" solutions to make sure you do not fall victim
to one or more of the "7" Deadly Sins. The list of sins is based on feedback water-proofing consultants, forensic experts, and industry members. .
Learning Objectives:
Identify areas of installations of stone and tile that are chronically wet to ensure that designs and installations deal with them. This will result in fewer failed installations which will improve durability of the systems adding to sustainability.
Discuss errors and omissions in installation methods that result in failures. Leaks can result in growth of fungus and mold which can be detrimental to human health.
Identify the means to determine compatibility of carious products used in waterproofing installations. Proper specifications must ensure that products function as designed to ensure safety of the installation.
Define the elements necessary to ensure a specification that utilizes products and installation methods that will waterproof the application. Ensure a failure- free installation and avoid costs to repair leaks which add to welfare.