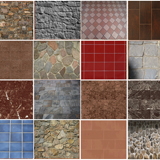 Up Against a Wall

About the Sponsor
Founded in 1946, Noble Company manufactures premium-quality, innovative products for the Tile, Plumbing, Heating and Cooling, and Fire Sprinkler Industries. Noble Company product applications include waterproofing, crack prevention, and sound reduction under tile flooring. Noble Company is an American-based company, manufacturing products in Michigan and Louisiana.
Friday, September 13, 2019 - 12:00pm to 1:00pm EDT
This presentation will provide the architect and specification writer with a thorough understanding and framework of knowledge with regard to "best practices" when installing ceramic tile and natural stone over interior wall/vertical surfaces.
A review of substrate preparation and options, waterproofing, movements joints, and lighting considerations will be highlighted. In addition, relevant ANSI, TCNA, and ASTM standards will also be Discussed.
Learning Objectives:
We will explore how the use of improper substrates can contribute to excessive vapor migration, microbial growth, and end-user health concerns.
Explore how the use of improper substrates on wall surfaces negates extended life cycle opportunities which directly impacts sustainability.
Identify concerns unique to the installation of ceramic tile and stone on interior wall/vertical surfaces as well as aesthetics.
Identify substrate issues and concerns and be able to select the correct substrate for particular projects and design requirements.