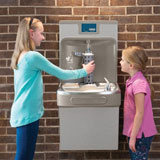 The Art of Water: Solving Water Delivery Challenges With Bottle Filling Stations

About the Sponsor
Zurn is a leader in commercial, municipal, and industrial markets. We manufacture the largest breadth of engineered water solutions in the industry.
Tuesday, July 18, 2023 - 12:00pm to 1:00pm EDT
In the pursuit of increasing sustainability efforts for a positive impact on the environment, more bottle filling stations are being put into building design specifications. Learn how bottle filling stations help to conserve energy, while encouraging the use of reusable bottles to minimize disposable plastic bottle waste in the environment.
Learning Objectives:
Overview of the bottled water industry and its environmental impact
Develop an understanding of how drinking water solutions add to the "brand" of any building owner
Review the next generation of water delivery
Gain insight into specification considerations