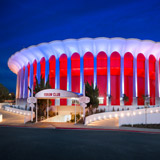 Asset Preservation: Extend Service Life and Optimize Life Cycle Costs using FEVE Fluoropolymer Coatings

About the Sponsor
Tnemec Company, Inc. specializes in protecting surfaces and structures from corrosion with high-performance coatings and linings. However, we know our customers equally value the protection our coatings and linings provide to their investments, their reputation, and their clients. Founded in 1921, Tnemec is one of the largest privately held protective coatings manufacturers in North America. Our coatings protect surfaces from Los Angeles to Philadelphia, Shanghai to San Juan, and every order we make is delivered with the expertise of our veteran team and the history they carry with them. Tnemec is headquartered in Kansas City, Mo., and manufactures a full range of protective coating products at facilities in North Kansas City, Mo., Baltimore, Md., and Shanghai, China. Tnemec's North American customers are serviced by distribution facilities in Atlanta, Dallas, Indianapolis, New Orleans, Seattle and Compton, Calif. Our independent representatives help with the specification and application of our coatings worldwide.
Tuesday, October 4, 2022 - 12:00pm to 1:00pm EDT
Preserving aesthetics and avoiding costly repaints should be key considerations when selecting exterior topcoats. This course will discuss the benefits of using FEVE Fluoropolymers to extend the maintenance life cycle cost of a structure. FEVE Fluoropolymers will be compared to other common fluid-applied topcoats and will showcase advantages of this coating technology through performance test data and real-world project examples.
Learning Objectives:
Learn how to extend maintenance life cycles using FEVE fluoropolymer coatings
Interpret, understand, and compare product performance data between real world and accelerated weathering
Discuss why providing the longest service life yields the lowest life cycle cost and most sustainable solution
View project case studies demonstrating the performance of this coating technology