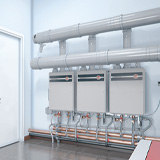 Benefits of High Efficiency Gas Water Heaters: Tank & Tankless Commercial Applications

About the Sponsor
Rheem Commercial Water brings together our family of brands to offer a comprehensive product portfolio designed to meet the water heating needs of any commercial project. Backed by a team of experts, providing personalized service including consulting, training, sizing, and technical assistance to ensure timely support when customers need it most.
Tuesday, October 3, 2023 - 12:00pm to 1:00pm EDT
To optimize the design and performance of commercial water heater systems, professionals should understand the difference between standard and high efficiency gas water heaters. Join us in this one-hour course as we cover the benefits of high efficiency gas water heaters and how to easily convert from standard to high efficiency. Participants will also learn methods for estimating hot water demands, best plumbing and venting principles, and emerging technologies for water heaters.
Learning Objectives:
Compare and contrast standard efficiency and high efficiency gas water heaters for energy consumption, cost savings, and environmental impact
Model best practices for converting from existing standard gas water heaters to high efficiency gas water heaters so projects remain cost-effective and time efficient
Determine the correct water heater for different applications based on time, temperature, and quantity to improve thermal efficiency and occupant comfort
Illustrate best practices for piping and venting multiple water heaters to ensure projects are safe and code compliant
Recall advanced and emerging technologies in water heating that improve on efficiency and building integration