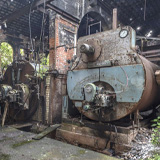 Boiler and Water Heater Retrofit: Things to Consider when Evaluating the Building and the Mechanical Room

About the Sponsor
Rheem Commercial Water brings together our family of brands to offer a comprehensive product portfolio designed to meet the water heating needs of any commercial project. Backed by a team of experts, providing personalized service including consulting, training, sizing, and technical assistance to ensure timely support when customers need it most.
Tuesday, June 7, 2022 - 12:00pm to 1:00pm EDT
The walkthrough of a boiler and water heater retrofit is a vital step to assessing the existing conditions and determining what needs to be fixed to meet the client's needs. Join us in this one-hour course as we discuss what to bring with you, what to document, and what questions to ask when performing a walkthrough. Participants will learn key questions to ask and documentations to make in regards to the water piping, venting, gas piping, and other factors to ensure a boiler and water heater retrofit is safe and code compliant.
Learning Objectives:
List key items to bring with you when performing a walkthrough for a boiler and water heater retrofit, as well as important factors to consider before beginning the assessment
Outline key questions to ask when assessing water piping, pumps, quality, and accessories to ensure a boiler and water heater retrofit is safe and code compliant
Examine the venting of a boiler and water heater retrofit, especially mistakes in exhaust venting, to promote code compliance, efficiency, and safety
Identify key factors to appraise in regards to the gas piping of a boiler and water heater retrofit to avoid installation errors resulting in unsafe conditions for contractors and occupants
Explain the importance of documenting the electrical power needs, service clearances & installation, controls, and sizing needs of a boiler and water heater retrofit