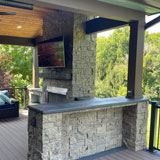 Building a Better System with Stone Veneer Siding

About the Sponsor
A rich background in residential estate construction coupled with specialty composite manufacturing defines who we are today. Our expertise in construction, building science, and manufacturing combined with our drive and passion for cutting-edge technology has laid the foundation for the next natural progression-leaders in specialty manufactured stone veneer. In our two decades, Evolve Manufacturing has become the premier specialty manufacturer of the most realistic composite productions and reproductions of virtually any object. The patented material that inspired Evolve Stone™ allowed us to produce an incredibly diverse portfolio of projects in theming and custom fabrication. Our products are on display at renowned venues such as Cabela's, Sea World, Royal Caribbean, and downtown Disney. We are proud of our reputation as leaders and innovators. As successful as we've been within the commercial sector, we knew our innovative solution would be a game-changer in the residential market. But the world didn't need another stone veneer product. It needed something big. Something different. It needed Evolve Stone.
Thursday, November 9, 2023 - 12:00pm to 1:00pm EST
In this one-hour course we discuss drainage and drying, as well as stone veneer as it relates to water infiltration, installation, aesthetic design, and innovative technology. Participants will be able to evaluate the benefits of interior and exterior applications of stone veneer.
Learning Objectives:
Identify sources of potential damage to a building wall assembly
Describe the importance of proper drainage and drying of a wall assembly to ensure the integrity of the building and safety of occupants
Compare and contrast different stone veneer options as they pertain to occupant health and safety
Assess the installation and application of stone veneer options to better understand design challenges and solutions that address performance, safety, and compliance