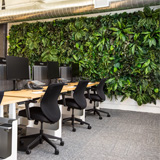 Chemistry 101 for Building Professionals

About the Sponsor
Chemical Insights Research Institute (CIRI) of Underwriters Laboratories Inc., a nonprofit organization, is dedicated to scientific research, publication, education, and communication on environmental exposures resulting from technologies and practices, their impact on human health and processes for reducing risks. CIRI provides actionable data and resources to help manufacturers, educators, healthcare providers, and consumers make informed environmental health decisions. Our work lets people around the world know what chemicals are in the air we breathe, the water we drink, and the products we interact with every day. Our leadership role is to provide science or knowledge to implement improved practices, alternative product design, and changes that enable safer products and healthier environments.
Monday, November 14, 2022 - 12:00pm to 1:00pm EST
Building professionals are charged with maintaining healthy built environments. With the flux of tenants and occupants, there is a constant flow of materials being moved in and out of a facility. These facility materials may be in the form of renovation construction materials or technology equipment. Often, materials arrive with possible unknowns and unintended consequences. In this session, you will learn the basic chemistry behind how common indoor air pollutants behave. Understanding this basic behavior will help you manage the air quality in the built environment. Knowing which products will off gas over a short time period versus which will accumulate in dust over the duration of their lifespan will have significant implications for mitigation strategies. Understanding how real-world conditions will impact the products in a space is essential to crafting your design, construction and operation plans. Toolkits and mitigation strategies will be shared with you to put into practice knowledge gained.
Learning Objectives:
Recognize common types of indoor air pollutants, including volatile organic compounds and semi-volatile organic compounds in the operation of buildings
Identify how common types of pollutants behave in the environment and recognize the maintenance implications of this behavior
Describe emerging risks and chemicals of concern in the built environment, based on the latest scientific research
Identify resources to support healthy indoor air quality