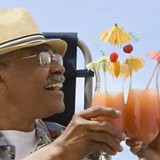 Color and Paints in Environments for the aging

About the Sponsor
When it comes to premium paints and stains for your home, Benjamin Moore has set the standard for excellence, since 1883. We manufacture our own resins and exclusive Gennex® colorants, which deliver superior performance and application properties in every product. Paired with our incomparable selection of authentic colors, Benjamin Moore paints are formulated to help you achieve beautiful, lasting results—every time you paint.
Course questions/comments
(866) 708-9181
Friday, August 21, 2020 - 12:00pm to 1:00pm EDT
In this course participants will learn the growth of the aging population and recognize the ways these health problems interfere with color perception.
Learning Objectives:
Discuss the growth of the aging population and the common health problems they face specifically as it relates to vision
Recognize the ways these health problems alter or interfere with color perception
Understand the common care environments for the elderly
Describe the ways color can help facilitate the quality of life, navigation, and orientation for the aging population
Summarize how premium, low VOC paint can offer durability and safe application in environments for the aging.