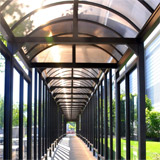 Custom Canopy Design: Structural Design, Material Options and the Optimal Process

About the Sponsor
Our core purpose since 1984 has been to inspire and enable sustainable communities. We design, engineer, fabricate, and install with the hopes that each product and solution we champion fosters harmony for every generation. We are the leading innovator in high-performance translucent walls, illuminated walls and ceilings, as well as custom canopies, shelters, and outdoor structures. We custom design/build around our client's specs.
Wednesday, April 27, 2022 - 12:00pm to 1:00pm EDT
The design of custom and special purpose canopies is a comprehensive process. The course breaks the process down into manageable steps. We examine the structural performance and design options based on loading criteria and material limitations. We discover how the structure design impacts the canopy top choice and options for optimizing quality natural daylight transmission, illumination, safety, and longevity.
Learning Objectives:
Canopy structural design – we break down the structural components and review options such as steel and/or aluminum and their benefits and limitations
Discover ways to safely maximize canopy spans for a clean structural design
Understand which canopy top technology option best meets performance objectives for light transmission, shading, structural requirements and aesthetics as we review glass, translucent and metal options
From design to installation: effective budget preparation – Learn how to get it right the first time