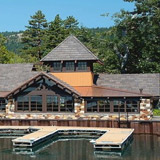 The Design Advantages of Synthetic Roofing Solutions

About the Sponsor
DaVinci has been the leader in composite roofing for nearly two decades. Our commitment to creating durable, beautiful roofing tiles is unparalleled. You won't find a more realistic or better-performing roofing product anywhere. With DaVinci, you can retain all the character your home was intended to have without worrying about time-consuming and costly maintenance. Whether you're replacing an existing roof or looking for the crowning touch on a new construction project…just leave it to DaVinci.
Course questions/comments
800-328-4624
Wednesday, May 20, 2020 - 12:00pm to 1:00pm EDT
This program will review the features and benefits of polyethylene based synthetic roofing material as well as compare this type of material to other types of high end roofing material. The program will also include the methods and conclusions of testing synthetic roofing material and well as go over the green features of these types of materials.
Learning Objectives:
State the design an architectural benefits of specifying a synthetic roofing solution including how synthetic products can contribute to LEED® point certification.
Discuss the durability and long life cycle of synthetic roofing materials including the various testing methods and approvals related to roofing materials.
List the green features of virgin-engineered polymer synthetic roofing materials.
Compare the advantages and disadvantages of traditional roofing materials versus synthetic products.