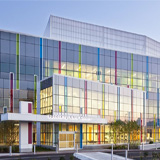 Designing with Laminated Glass for Sound Control

About the Sponsor
Founded in 1920, Eastman is a global specialty materials company that produces a broad range of products found in items people use every day. With the purpose of enhancing the quality of life in a material way, Eastman works with customers to deliver innovative products and solutions while maintaining a commitment to safety and sustainability. The company's innovation-driven growth model takes advantage of world-class technology platforms, deep customer engagement, and differentiated application development to grow its leading positions in attractive end-markets such as transportation, building and construction, and consumables. As a globally inclusive and diverse company, Eastman employs approximately 14,500 people around the world and serves customers in more than 100 countries. The company had 2019 revenues of approximately $9.3 billion and is headquartered in Kingsport, Tennessee, USA.
Course questions/comments
1-423-229-2000
Friday, May 1, 2020 - 12:00pm to 1:00pm EDT
Designing for sound reduction. Modern building designing designs emphasize liberal use of glass. Meanwhile, building owners and occupants demand comfort- including reduced ambient noise. However, sounds transmittance can be significant through glazing made with ordinary glass. This is especially a challenge for designers and engineers developing urban products along highways, railroads, and airports. The answer is not less glass but new materials with proven sound-damping performance. Increasingly, laminated glass manufactured with architectural tri-layer acoustic PVB inter-layers have proven to be a viable solution. The dual problem of retaining architectural integrity while simultaneously providing the most practical, effective form of sound control available in glazing systems can now be answered with a single product.
Learning Objectives:
Identify architectural trends of acoustics
Compare and contrast the characteristics of acoustic glazing to other glazing materials
Explain acoustic test methods
Analyze design considerations and other benefits of acoustic glazing