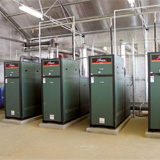 The Devil is in the Details: Common Pitfalls Specifying Commercial Boilers & Water Heaters

About the Sponsor
Rheem Commercial Water brings together our family of brands to offer a comprehensive product portfolio designed to meet the water heating needs of any commercial project. Backed by a team of experts, providing personalized service including consulting, training, sizing, and technical assistance to ensure timely support when customers need it most.
Wednesday, August 23, 2023 - 12:00pm to 1:00pm EDT
Overlooking the smallest detail in the beginning can cause huge issues later on. Join us in this one-hour course as we cover common pitfalls designers face when specifying commercial boilers and water heaters. We will review different types of installation and application errors that can cause major safety concerns.
Learning Objectives:
Review combustion fundamentals and differentiate between condensing and non-condensing water heater systems
Discuss how misapplication of water heaters and boilers can cause major concerns and dangerous environments for contractors and occupants
Identify the end results of poor venting, including increased liability, destroyed boiler components, and potential risks to occupant safety
Recall minimum combustible clearance and minimum service clearance guidelines and articulate the importance of proper service clearance for operation and safety
Judge real world applications for proper venting, clearance, piping, and other processes to ensure best practices and guidelines have been followed