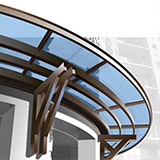 Don't Wait: A Canopy Prep Timeline

About the Sponsor
The leader in extruded aluminum canopy, aluminum frame, store, hanger rod and custom canopy systems. Providing innovative environmental control through creative design. MASA Architectural Canopies represents an exciting approach to the pre-engineered building components market and is always pro-active in the use of materials to expand industry trends and designs. MASA's broad knowledge separates them from the cookie-cutter fabricators to an elite level of custom design and build manufacturers. From start to finish, design through installations, MASA provides superior execution required during each phase of your project to produce top-quality canopy systems. When quality counts, you can count on MASA WE * DESIGN * BUILD * INSTALL
Course questions/comments
(732) 453-6120 ext. 116
Wednesday, February 17, 2021 - 12:00pm to 1:00pm EST
Canopy systems are important additions to the building envelope, as well as providing a beautiful, unique aesthetic. Additionally, canopy systems require proper planning, knowledge, and a well-kept timeline. Architectural choices should drive the project, and as a result, the cost. In order to achieve the full environmental and green building benefits provided by a canopy system, all details must be worked out early and completely.
In this program we'll discuss the importance of knowledge in the planning stages for canopy systems, which includes stylistic and structural elements. We will also discuss structure, attachment, drainage, and other vital operational considerations.
Learning Objectives:
Discuss canopy design elements, as well as attachment and structural needs in order to take control of the process and drive cost.
Explain how proper canopy design determines the green building benefits such as reduction in energy usage, costs, and building emissions while promoting health and wellness.
Address specific challenges in form and function and how to deal with those challenges in the early stages to avoid late-stage revisions and higher project costs.
Discuss when to use differing attachments, and how those choices affect the safety and structure of the wall surface as well as the environmental benefits of a canopy system.