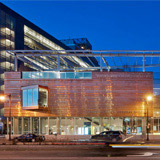 Elevating Design with Copper

About the Sponsor
Copper Development Association Inc. (CDA) is a U.S-based, not-for-profit association of the global copper industry, influencing the use of copper and copper alloys through research, development and education, as well as technical and end-user support. CDA is committed to promoting the proper use of copper materials in sustainable, efficient applications for business, industry and the home. Copper Development Association Inc. promotes the goals of our members while serving the needs of the users, purchasers, designers and specifiers of copper and copper alloy products.
Friday, September 23, 2022 - 12:00pm to 1:00pm EDT
In this one-hour course, you will learn about the amazing qualities of copper and its inherent sustainability in the built environment. The properties and characteristics of copper and copper alloy offer versatility, sustainability, and unlimited design potential. Examples of good design practices will be evaluated along with an assessment of project solutions and improvements.
Learning Objectives:
Define copper, identify common alloy families, and interpret how copper is 100% recyclable
Examine the inherent properties of copper that make it an efficient material and how design professionals can incorporate these characteristics into high performing buildings and infrastructure
Discuss the functional contributions of copper and copper alloys as part of a sustainable building design
Assess recent construction projects utilizing copper and copper alloys in roofing, wall cladding, and ornamental systems