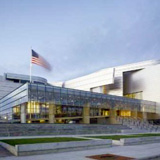 Enhancing Security with Laminated Glass

About the Sponsor
We are committed to developing new fields of business using pioneering technology that improves the environment and enhances the quality of life throughout the world. For people and the planet—to achieve what no one else can.
Tuesday, November 16, 2021 - 12:00pm to 1:00pm EST
This presentation will focus on a growing need for security glazing to protect people and property from terrorist attacks and severe weather. Laminated glass can provide intrusion resistance, as well as protection from flying glass that occurs after a bomb blast. Bullet resistant laminates are designed specifically to stop bullet penetration and fragmentation. Industry standards for testing and specifying security glazing will be reviewed, including ASTM and Underwriters Laboratories standards for physical attack, bomb blast, ballistics and wind-borne debris protection. Architectural applications include courthouses, schools, embassies and other government buildings, commercial storefronts, as well as animal enclosures for zoos and psychiatric facility windows.
The physical and performance characteristics of PVB and ionoplast interlayers will be presented, including interlayer stiffness, strength, and thickness and color options. The use of high performance coatings and insulating glass units for energy performance will be discussed.
Learning Objectives:
Recognize the growing concern for terrorist attacks, including shootings in schools
Understand how laminated glass provides intrusion, blast, ballistics, and wind-borne debris protection
Identify test standards and requirements for security applications
Identify architectural applications where security glazing is required, including courthouses and embassies