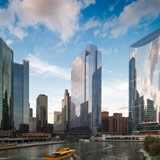 Exploring the High-Performance Benefits of Laminated Glass

About the Sponsor
Founded in 1920, Eastman is a global specialty materials company that produces a broad range of products found in items people use every day. With the purpose of enhancing the quality of life in a material way, Eastman works with customers to deliver innovative products and solutions while maintaining a commitment to safety and sustainability. The company's innovation-driven growth model takes advantage of world-class technology platforms, deep customer engagement, and differentiated application development to grow its leading positions in attractive end-markets such as transportation, building and construction, and consumables. As a globally inclusive and diverse company, Eastman employs approximately 14,500 people around the world and serves customers in more than 100 countries. The company had 2019 revenues of approximately $9.3 billion and is headquartered in Kingsport, Tennessee, USA.
Course questions/comments
1-423-229-2000
Friday, December 4, 2020 - 12:00pm to 1:00pm EST
While extensive laminated glass use is growing within the architectural market in the America, it has been a recognized design material employed in Europe for many years. In addition to the safety and security benefits it employs, laminated glass can also contribute to the comfort, health and well-being of building occupants in terms of daylighting, sound control, solar / UV control, structural enhancement and color aesthetics. Laminated glass, which is formed by permanently bonding an interlayer between two pieces of glass under heat and pressure, has become a differentiated alternative to the often-specified tempered glass in safety applications. Unlike tempered safety glass, which breaks into small pieces, laminated glass tends to contain the broken glass shards and helps in maintaining the building envelope. It can provide demonstrated security and storm benefits as well. As the building industry examines these performance issues, design criteria and the affect on occupant comfort, architects are increasingly turning to laminated glass because of its many high- performance benefits.
Learning Objectives:
Compare and contrast the performance benefits of PVB laminated versus non-laminated glass for safety and security applications.
Describe how health and welfare benefits may result from sound transmission reduction and how laminated glass contributes.
Discuss why high-performance laminated glass is increasingly being used for structural applications, potentially allowing larger sizes, greater daylighting and better views for occupants.
Demonstrate the safety and security benefits of laminated glass during assaults and storms.
Recognize how colored PVB may influence wellness and assist architects and designers in obtaining their design goals.
Illustrate the design possibilities utilizing multiple high-performance capabilities in laminated glass to influence efficiency and elevate the human experience.