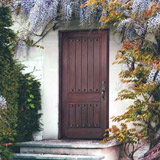 Fiberglass Doors: Gateway to Performance Comparison

About the Sponsor
Since 1994, Plastpro has always believed in providing a superior product with the best value, technology, and commitment to our customers. Our fiberglass doors offer the beauty and versatility of wood doors, but are strong like steel doors. Wood and steel doors have been preferred in the industry, but both come with problems such as: rotting, rusting, and weather damage. Our fiberglass doors are the best solution and are not susceptible to weather damage, require less maintenance, and offer higher performance ratings. We've introduced the first door with composite stiles and rails, HydroShield Technology, and composite Polyfiber (PF) Frames to the industry. Our doors feature a full length LVL block that provides stronger rigidity and a range of door locks and hardware to be installed for increased security. We carry a wide variety of designs, sizes, and styles that are bound to complement everyone's home.
Thursday, May 12, 2022 - 12:00pm to 1:00pm EDT
In this one-hour webinar, design professionals will learn about the physical and structural components of fiberglass entry doors, comparing their performance to those of wood and steel doors. It will discuss the rating systems put forth by the National Fenestration Rating Council and North American Fenestration Standards, as well as how fiberglass entry doors can be used to fulfill guidelines relating to ENERGY STAR® and LEED®. By the end of this presentation, design professionals will be able to specify fiberglass entry doors in order to utilize these durable and beautiful doors in any of their projects.
Learning Objectives:
Discuss the physical and structural components of fiberglass entry doors, including the skin, stiles, rails, core, and lock block
Define the energy performance rating system put forth by the National Fenestration Rating Council (NFRC) and the standards set by ASTM International and North American Fenestration Standards (NAFS) to ensure fiberglass entry doors are safe and sustainable for both the installers and future occupants
Identify how fiberglass entry doors can fulfill the standards of various green programs, such as ENERGY STAR® and LEED®, to create entryways that are both aesthetically pleasing and environmentally-friendly
Evaluate the environmental, structural, and aesthetic performance of fiberglass entry door product offerings, comparing them to that of wood and steel doors