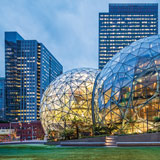 Fluent Translation: Correlating Fluoropolymer Lab Data with Real World Exposure

About the Sponsor
With their superior performance and life cycle cost advantages, it's no wonder fluororesin paints based on LUMIFLON have been applied to more than 150,000 industrial and architectural structures worldwide. LUMIFLON based coatings maintain gloss and color when applied to buildings, bridges, water towers, aircraft, automobiles, and other structures for over 35 years. They also protect steel, aluminum, fiberglass, concrete, and other materials of construction from corrosion, sunshine, wind, and rain. The use of LUMIFLON resins can substantially reduce life cycle costs, including maintenance cost, replacement cost, and re-coating costs. LUMIFLON resins are available in conventional solvent grades. Powder coated, water based resins and solid resins allow for the production of low VOC and HAPS free environmentally friendly coatings.
Tuesday, July 13, 2021 - 12:00pm to 1:00pm EDT
This webinar was developed to aid architects in understanding the importance of performance testing. Participants will learn about different topcoat options, relevant performance testing and how to interpret the test results. The main benefit of the webinar will be to aid architects in the coating selection process. Other valuable pieces include review of case studies and other coating attributes of FEVE Fluoropolymers.
Learning Objectives:
Learn how to correlate laboratory test data with real-world exposure of fluoropolymer coatings.
Interpret, understand, and compare product performance data.
Review 15-20-year-old case studies demonstrating the performance of this coating technology.
Examine other attributes of FEVE Fluoropolymers.