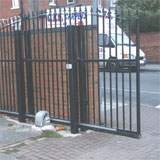 Gate Operators: UL 325 and ASTM F2200 Standards Safety Review

About the Sponsor
With myQ connectivity, our garage door openers, gate operators and commercial door operators can be controlled right from your smartphone or through our cloud-based software. You'll know when a door or gate has been left open and can close it with a tap, no matter where you are.
Monday, August 29, 2022 - 12:00pm to 1:00pm EDT
Define the UL 325 and ASTM F2200 Standards and their importance, list the different types of gates available and the types of gate operators that are used to maneuver them. Explain the importance of entrapment zone protection, the devices available to protect these zones and their placement, and identify the difference between monitored and non-monitored entrapment protection devices.
Learning Objectives:
Identify the types of gate operators that are used to maneuver the various gates that are available
Explain how to identify entrapment zone's, and how to place entrapment protection devices to meet the standards, as well as explain the difference between monitored and non-monitored entrapment protection devices
Define the requirements of the UL 325 and ASTM F2200 standards as they apply to gate and gate operator installations
Define the type's of gates that are available in today's market place