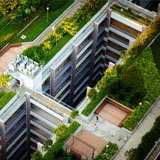 Green Roofing: Blending Built Environments with Nature to Maximize Rooftop Productivity

About the Sponsor
Architects, specifiers, general contractors and distributors rely on the Babcock - Davis product line for a quality product with hassle-free fulfillment. We provide roof hatches, smoke vents, access doors, floor doors, stair treads and nosings, entrance flooring systems and wallwear when and where you need them.We build our services around your specified needs. Babcock Davis takes complete care of your needs and full responsibility for the process from beginning to end, ensuring that you get the right product in the right place at the right time.
Course questions/comments
888.412.3726
Tuesday, May 18, 2021 - 12:00pm to 1:00pm EDT
This course will go over the basics of vegetated roof construction and how the industry has documented successful installations over the last 25 years in the United States. We will teach the design requirements and standards unique to green roofs. The course will educate the participant on the benefits of the technology- including stormwater management and lowering roof temperatures. We will also provide project examples across the country that incorporate a variety of technologies such as biosolar, amenity decks, daylight harvesting, and agricultural production.
Learning Objectives:
Gain the basic understanding of vegetated (green) roof design and how to create a unique system that still meets a typical roof warranty.
Understand how green roofs perform and the maintenance requirements needed to keep them healthy.
Improve one's ability to convey the benefits of green roof technology and how to apply it to a client's specific needs (including agricultural, biosolar, amenity decks, and managing stormwater on the roof).
Provide knowledge on how green roofs can be used in new construction, retrofit, and residential projects; and what LEED credits may be utilized.