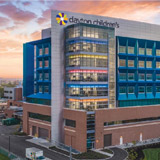 High-Performance Fluoropolymer Coating-Powder/Liquid/ADS

About the Sponsor
At PPG, our global employees are focused on protecting and beautifying the world every day. It's part of The PPG Way. We view each day as an opportunity to make a difference in our communities, partner with our customers and drive growth for our business.
Thursday, October 20, 2022 - 12:00pm to 1:00pm EDT
When exceptional durability and performance are required for architectural extrusion coating, it is important to select the proper coating system. This program is an introduction to powder coatings and will enlighten the participant on how powder coatings qualify for FGIA/AAMA 2605, 2604, and 2603 standards, application of powder, sustainability, offer unique aesthetics, and differences of powder versus liquid.
Learning Objectives:
Understand powder coatings basics and the ingredients in a powder coating as it relates to architectural aluminum
How powder complies with FGIA/AAMA specifications—technical performance in terms of corrosion resistance, UV durability, and adhesion
Review the types of powder and the application process
Gain information on sustainability advantages of powder coating
Review information on touch up
Compare powder versus liquid