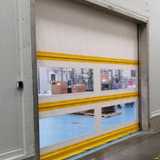 High-Performance High-Speed Rolling Door

About the Sponsor
The Overhead Door™ Brand is one of the most recognized and respected brands in the garage door industry. For 100 years, the Overhead Door™ Brand has stood for product quality and expertise, as well as professional service. From commercial and industrial upward-lifting doors and access systems to residential garage doors and openers, we combine quality, dependable products with reliable service to consistently give home and business owners confidence and peace of mind. Because we care about safety, we require that all of our garage doors and commercial doors be installed by professionally trained technicians. We offer specialized training on the installation of our doors through ongoing classes offered through ARCAT. When you are looking to have a garage door or commercial door installed, be sure to look for the Red Ribbon logo from the garage door company you call. If the company does not display the Red Ribbon logo on their advertising, building, trucks or uniforms, you are not dealing with an authorized distributor of Overhead Door™ products.
Course questions/comments
1 (800) 929-3667
Tuesday, June 27, 2023 - 12:00pm to 1:00pm EDT
High-Performance High-Speed Rolling Door types and applications.
Learning Objectives:
Understand the different types of High-Performance High-Speed rolling doors and their applications
Understand how HPHS rolling doors ensure safety and welfare of occupants by using sustainable and energy efficient designs
Understand how HPHS rolling doors can reduce airborne contaminant flow, increase productivity and traffic flow, reduce operational and energy costs, enhance security
Evaluate criteria to select and specify the appropriate rolling door for various applications, by understanding the different features and options