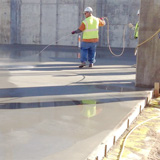 How to Eliminate Flooring Failures

About the Sponsor
SINAK products are easy to apply, maintenance free, and friendly to the environment. Looking to control moisture and apply finish flooring without adding weeks of labor and remediation to the schedule? Our VC-5 offers same day slab access, and has saved our customers millions in remediation costs. Sick of curing processes that require unnecessary equipment and weeks of supervision? Just spray LithiumCure 2000 and walk away. No blankets, no film or residue, no need for grinding or shot blasting. And the list goes on! Whatever your concrete supply needs, we've got you covered with patented products that save you time and money, are backed by unmatched customer service, and offer the highest performance criteria in the industry. SINAK started as most businesses in the construction industry start…with a family. While working for the family construction business on a concrete waterproofing project, two brothers (surfers from California) noticed the products they were using were good, but not great. That's when they set out to come up with a better solution. After six months in a garage laboratory and plenty of long nights, they finally had their first masterpiece. S-102, a concrete waterproofer, revolutionized the industry with unmatched performance in the field and set the tone for decades of future innovations. Now, after 41 years, this family business has grown into an international concrete chemical manufacturer serving customers from the UK to Qatar/Korea, Amazon to Tesla and the Hawaii Department of Transportation. SINAK's sustainable technology demonstrates our dedication to excellence. All SINAK curing products have been listed "Super Compliant" with SCAQMD and are UL GREENGUARD Indoor Air Quality Certified. Products with GREENGUARD Certification or GREENGUARD Gold Certification can contribute to the achievement of points in established green building rating systems, such as LEED, BREEAM, Fitwel and U.S. Green Building Council. We are also a proud member of the UN Global Compact. It mirrors the excellent standards of fair and equal business practice that we strive to uphold.
Tuesday, May 4, 2021 - 12:00pm to 1:00pm EDT
This course provides an overview of the considerations for specifying concrete to receive floor coverings, with guidance on proper specification of concrete mix design, placement, and curing methods to secure a warranted floor covering system for the project. Special emphasis on the environmental concerns of product choice application technique and time savings are combined in a systems approach for improved overall concrete placement.
Learning Objectives:
Identify and list some of the common flooring failures caused by moisture movement due to improper design, placement, and curing of the concrete.
Describe the impacts of these flooring failures on human health, materials and labor costs and delays and scheduling conflicts as remediation occurs.
Discuss how improper water/cement ratio, mix design, placement, finishing, and curing can impact the moisture levels in concrete.
Restate the importance of communication among all parties involved in flooring installation so that unhealthy, unsafe, and costly flooring failures can be prevented.