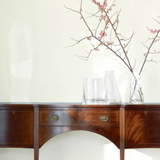 How to Select the Right Interior Paint Finish

About the Sponsor
When it comes to premium paints and stains for your home, Benjamin Moore has set the standard for excellence, since 1883. We manufacture our own resins and exclusive Gennex® colorants, which deliver superior performance and application properties in every product. Paired with our incomparable selection of authentic colors, Benjamin Moore paints are formulated to help you achieve beautiful, lasting results—every time you paint.
Course questions/comments
(866) 708-9181
Thursday, September 17, 2020 - 12:00pm to 1:00pm EDT
In this course participants will gain practical knowledge on sheen and gloss levels while illustrating the use of various finishes through a home painted in colors from the Color Trends 2019 Palette.
Learning Objectives:
List the different finishes
Explain the difference between sheen and gloss
Describe the process for evaluating color
Examine the use of various finishes from the Color Trends 2019 palette.