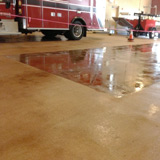 How to Treat Concrete

About the Sponsor
Solving challenges is the very foundation of who we are. after all, in the beginning, sea captain Robert Fergusson didn't particularly care about paint. He just wanted to keep his ship intact. That's why, when he noticed that an accidental splash of fish oil had stopped the relentless spread of corrosion on his rusty metal deck, he immediately recognized it for what it was: A valuable solution. The same passion that drove the Captain to spend his next few years creating the world's first rust-preventative paint still drives us today. When we see a problem, we work diligently until we've perfected a solution- which has led to some of the most cutting-edge, durable and innovative products in the industry. If you've got a surface you need to protect or a look you want to transform, you've come to the right place. We have a coating for every challenge. Welcome to Rust-Oleum, home of trusted quality-and powerful solutions-since 1921.
Friday, February 7, 2020 - 12:00pm to 1:00pm EST
In this one-hour course, you will discover the problems associated with the concrete construction and describe the impact concrete floor's appearance and performance. We will evaluate how to control and possibly conquer the "biggest problems" that concrete has as surfacing material. We will explore how to recognize the differences between the technologies and discuss their potential uses. As well as identify the design criteria needed to properly specify a high-performance coating system based on needs of application.
Learning Objectives:
Discuss common problems associated with concrete construction and describe how they impact a concrete floor's appearance and performance
Evaluate how to control and possibly conquer the "biggest problem" that concrete has as a surfacing material
Recognize the differences between the technologies of a variety of high-performance coating systems for concrete floors and discuss their potential uses
Identify the design criteria needed to properly specify a high-performance coating system for a concrete floor based on the needs of the application