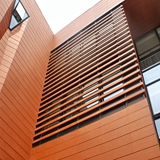 Introduction to Terracotta Panels

About the Sponsor
Since its founding in 1891, Acme Brick has continually advanced the art and science of brick-making, to make brick an affordable, sustainable, enduring, and beautiful choice for America's homeowers, builders, contractors, institutions, and businesses. When you see the Acme name, you can be sure that the brick are: Hard-fired for lasting strength. American-made by an American-owned company. Backed with one of the strongest commitments in the industry. Don't settle for imported adobe, concrete, or so-called antique brick.
Course questions/comments
210-493-2612
Wednesday, November 20, 2019 - 12:00pm to 1:00pm EST
This course will give an overview of the use of terracotta panel claddins as a building finish material. The design advantages and disadvantages of various types of terracotta cladding will be presented along with an explanation of installation methods. In addition, types of building addemblies and cost considerations will be discussed.
Learning Objectives:
List the benefits of using terracotta material in the built environment
Describe various terracotta-based available for exterior cladding
Explain the material and assembly property standards for terracotta panels
Evaluate the characteristics and design considerations of using a rainscreen cladding system
Webinar Recording Download: